Bert Francis – Life Member (2018)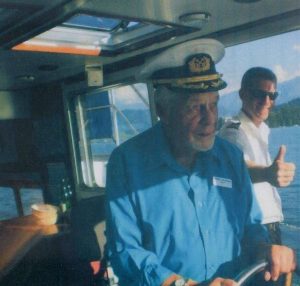 This photograph shows Bert Francis (one of our long-serving volunteers at SailabilityGC and a long-time skipper of our support boats) at the wheel of a tourist boat on Lake Lucerne in Switzerland.
Bert, together with his partner Lee, was visiting Switzerland a few years back when he decided to have a chat with the Captain of the tourist boat. Bert does love a chat and no more so than to chat about boats.
Upon Bert sharing his experience of many years with both Sailability and the Coast Guard on the Gold Coast the Captain of the tourist boat had no hesitation in passing the wheel over to Bert and even loaned Bert his captain's hat. Some say that apart from his partner there is nothing that makes Bert's heart race faster than an abundance of 'scrambled egg' on the peak of a cap.
Bert reckons it was a little nerve-wracking as the lake was very busy with many other boats, yachts, houseboats, speed boats and tourist boats.
With approximately 30 tourists on board getting a little nervous (is this Aussie hijacking the boat?) Bert passed the wheel back to the captain whereupon he was asked to take over the commentary (reading from a Script) for the remainder of the trip. Many of the passengers commented to Bert at the end of the trip that he was easier to understand than the Captain – at least that how Bert likes to tell the story.
Bert has been honoured by Sailability Gold Coast being awarded Life Membership status in 2018.
Bert Francis – Life Member (2018)