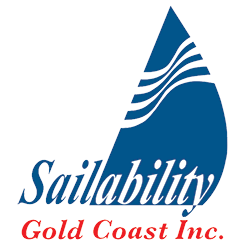 About
Sailability Gold Coast is a voluntary, not-for-profit organisation that provides a safe and friendly environment for people with a disability to participate in the sport of sailing. We welcome people of all ages and all abilities both as sailors and volunteers.
For 20 years both the sailors and volunteers that are Sailability Gold Coast have worked closely together to achieve great things for all.
Come sailing with us
Whether you are looking for a recreational sail on a regular basis or would like to learn to sail for your own enjoyment, there is a program for you.  For those who seek to develop their competitive sailing skills why not consider one of our structured programs.
Sailability Gold Coast operates on the Gold Coast Broadwater every Tuesday (weather permitting)
from 9:00am to 1pm
at 1 Marina Crescent Hollywell QLD 4216
Contact us
Phone 0407 979 666 for a recorded message from early each Tuesday to confirm weather is good and we are sailing on the day. Alternatively, you can check our Facebook Page to connect with us and see updates.
Want to become one of our volunteers? If you are interested in volunteering, please call Di Hunt on 0421 049 774.
Sponsorships, grants, donations and governance issues: contact our President, Alan Tayt (president@sailabilitygc.org) or 0427 026 001.
All other correspondence to: sailabilitygc@sailabilitygc.org